Wat Suan Mokkh - main monastery in Chaiya, Thailand
Wat Suan Mokkh is a forest monastery where about 40 monks live in little huts in the forest. From July to September, during the traditional three month rain retreat, the number of monks may increase to more than 70. Another part of the mon­as­tery grounds is re­served for nuns and lay women.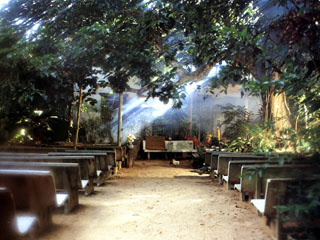 At one time, before 1996, a small community of foreigners lived at Wat Suan Mokkh, known worldwide as a center for med­i­ta­tion. Today only occasionally foreigners will stay longer than two or three days before or after the retreat at the associated Inter­na­tional Dharma Her­mit­age about 1.5 km to the east of the main mon­as­tery.

This hermitage attracts more than 1,000 for­eign­ers a year to Wat Suan Mokkh, which some­times appears as Wat Suan Mok in some publications and websites that try to cap­ture the pronunciation. The visitors attend 10-day silent retreats with instruction in med­ita­tion and Dharma. The instructions at the International Dharma Hermitage are given in English.

There are a number of other buildings at Wat Suan Mokkh, including the Spiritual Theater and the assembly hall in the form of a big ship - a metaphor for the Dharma - with a foreign library and the sculpture work­shop.
The foreign library has a variety of books on med­i­ta­tion, Buddhism and related topics in many languages including English, German, French and Japanese.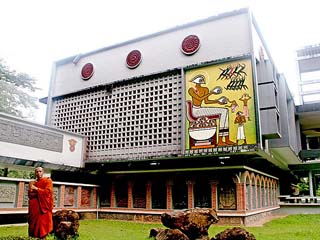 Anyone arriving early for a retreat, wanting to stay longer or arriving during re­treats is wel­come to stay at the main mon­as­tery. Ac­com­mo­dation in dorms (for men) or in­di­vid­ual rooms (for wom­en) is free; food is available inside the mon­as­tery or at the nearby stalls.
Please note that there are neither organised activities nor a certain schedule to be fol­lowed, no teachings or instructions been offered while staying at the main Suan Mokkh monastery. This possibility is therefore most suitable for people who have done a retreat at the In­ter­na­tional Dharma Hermitage already or for experienced med­ita­tors who can use the wat's facilities without guidance.

Staying at the main monastery provides an interesting opportunity to get in touch with the monastic lifestyle of forest monks in Thailand. It is not necessary to dress in white and you do not have to keep silent while staying there but you are asked to dress and behave re­spect­fully and to keep the Eight precepts as described in the Basic Rules page.